As Daisy looks to drive our business forward, we're seeing increasing interest from retailers around the world looking for new and innovative ways to generate higher sales and profits. 
This includes South America where we have partnered with DFuturo Consulting to pursue opportunities in Brazil.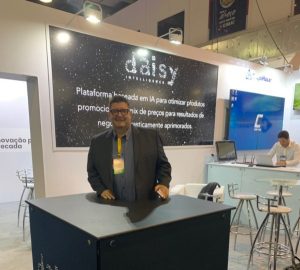 With a large and competitive retail marketplace in Brazil, we're confident there is strong demand for our AI-powered merchandise planning platform that optimizes promotional product and price mixes for significantly improved results, exceeding 3%-5% year over year same-store sales. 
Daisy is making a splash this week by sponsoring the LATAM Retail Show in Sao Paolo. LATAM is the biggest retail conference in South America, bringing together industry experts, innovative vendors, and small, medium, and large retailers. 
Daisy CEO Gary Saarenvirta will be delivering a keynote address tomorrow about the impact that artificial intelligence is having on the retail sector and how companies can embrace the power of AI to establish a competitive edge. 
"Daisy is laser-focused on becoming a global player and a leader within the AI-powered merchandising planning market," Saarenvirta said. "Our partnership with DFuturo and our presence at LATAM reflects our commitment to capitalizing on exciting growth opportunities." 
Daisy's AI is based on reinforcement learning and simulates billions of product mix scenarios to make optimized promotional decisions without human intervention.  
Our Theory of Retail™ is unique in the marketplace and considers all the key factors that affect retail outcomes like promotional product and price mix, halo sales, cannibalization, forward–buying, seasonality, promotional channel mix, price elasticity, promotional elasticity, competitor promotions and prices, client and competitor store locations, consumer locations, etc. 
DFuturo is the consulting arm in Brazil for the Hasar Group. It provides strategic services to companies that want to embrace new business processes and technologies.