The people powering

Daisy.
We're on a mission to enable organizations to make smarter operational decisions using math and science. Going far beyond human capacity to solve your most complex data problems.
We're an A.I. software-as-a-service company. Using our proprietary mathematical solutions and the Daisy A.I.-based simulation platform, we analyze 100% of the trade-offs inherent in any complex business question and provide weekly, specific recommendations to help our clients grow total sales, improve margins, reduce fraud and delight their customers.

Helping you prepare for a better future.
We're at an inflection point in the progression of technology: one where A.I. has the power to bring about revolutionary change by helping companies become significantly more profitable.
We envision a world where A.I. will play a role in helping eradicate poverty – where businesses can find such massive efficiencies that prices are driven down, and advancements in medicine can be made so that health care becomes universal.
DAISY DELIVERS RESULTS
WE HAVE A PROVEN TRACK RECORD OF INCREASING OUR CLIENT'S TOTAL SALES AND NET MARGINS.
What's in a name?
A lot of thinking.
In 2003, our founder Gary Saarenvirta, launched the makeplain Corporation, which was best described as "a data analytics company." Fast-forward to the beginning of 2016, when makeplain Corporation rebranded as Daisy Intelligence. This was an acknowledgement that even after more than a decade of success, we evolved alongside a rapidly changing data analytics landscape and were now reaching new audiences.
Our inspiration for the name Daisy Intelligence came from several sources:
We love using complex math to solve real-world problems, so, naturally we're big fans of Fibonacci, who introduced what is widely considered to be math's perfected sequence: the Fibonacci Sequence. This sequence can be found throughout nature such as in the number of petals and the number of spirals in the florets of a daisy flower.
In 1961, the IBM 7094 was programmed to sing "Daisy Bell": the first song ever sung by a computer. This song was sung again by HAL in the film 2001: A Space Odyssey. We especially like the first line of the song: "Daisy, Daisy give me your answer true" because it reflects what Daisy Intelligence strives to deliver to its clients: the facts.
The name Daisy contains "A.I." which represents our company's artificial intelligence foundation.
So it's safe to say, there's a lot of thinking behind our name.
COMPANY HIGHLIGHTS
Recognized as "Cool Vendors in A.I. for Retail" by Gartner Inc.
Named "Best Startup" at The AIconics awards.
Won $5-million funding prize at ElevateR Pitch: A.I. Edition.
Named to Toronto 50 list of GTA startups to watch.
We understand that in today's data-driven world, it is now far beyond the capacity of humans to measure and optimize decision-making. Yet, the road to the humanly impossible is still driven by people – people like the team at Daisy. While we love our math and science, we still pride ourselves on being fun and easy people to work with. We love our clients. For our team, no business challenge is too big when there's a mountain of data to scale.
While we love our math and science, we still pride ourselves on being fun and easy people to work with. We love our clients. For our team, no business challenge is too big when there's a mountain of data to scale.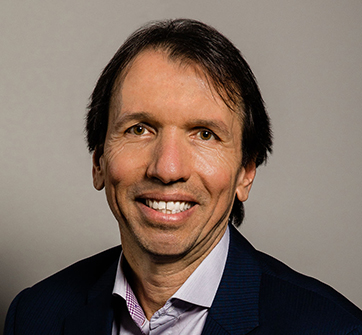 FRANÇOIS VIMARD
Corporate Director
François currently sits as Chair of the audit committee and director of Andrew Peller Ltd., a public company listed on the TSX. Also, board member and past Chair of GS1 Canada, a none for profit organization responsible to establish standard in many industries.
A day in the life at Daisy includes hard work, good people and a great company culture. Interested in joining the Daisy team? We'd love to meet you. All our departments are growing fast and hiring for multiple positions.
Daisy accepts applications from University students who have completed at least 2nd year for summer, co-op, or professional experience. Candidates must come from quantitative programs such as Engineering, Computer Science or Mathematics.
Read our Accessible Customer Service Policy.
If you're an experienced consultant or retail integrator and have prospective retail or insurance clients interested in an A.I. solution, we'd love to hear from you.
ABOUT DAISY
WE'RE ON A MISSION TO HELP ORGANIZATIONS MAKE SMARTER AND MORE PROFITABLE OPERATIONAL DECISIONS BY LEVERAGING THE POWER OF MATH AND SCIENCE.
Sign up to receive our newsletter