Enhance your business practices with AI
AI software that delivers explainable Decisions-as-a-Service for retail merchandise planning and insurance risk management
Our Technology
Trust the tech to Daisy
1B
Data points processed faster than real time
Daisy's unique, autonomous AI system (no code, no infrastructure, no data scientists, no bias) elevates your employees to focus on your mission, serve your customers and create shareholder value.
The Halo Effect
Daisy's solutions consider and maximize all Halo Effects, which are the positive and negative relationships that occur between products due to customer choice and behaviour. These relationships include associated sales, cannibalization, and pantry loading or forward buying. The result is increased profits and ensuring your customers are finding what they want at the right price and time in the right channel.
The Halo Effect
The Halo Effect is caused by outlying human behavior that is different from what is normally expected. Fraud and risk are outlying behaviors that are especially difficult to identify. Traditional, statistics-based outlier-detection methods fail when you must work with a large volume of data. We call that very problem – outliers in high-volume data – the Halo Effect.
Reinforcement learning and Fuzzy logic
A unique perspective
Daisy offers a unique perspective backed by several years of experience applying eDaaS solutions.
AI done right
We offer a set of best practices called AI Done Right that ensures a seamless journey to autonomous.
We value trust
All decisions are delivered with explanations to ensure our system builds trust with your staff.
We lead the field
Our expertise spans 20+ years of providing AI-powered insights.
High-performance computing
Daisy is partnered with the Google Cloud Platform (GCP). We offer scalable infrastructure with zero data exposure risk.
Cutting-edge tech
Daisy's eDaaS system is not a black box. No code, infrastructure, or data science personnel are required.
Resources
Learn what AI is, what it isn't, and how it will elevate your people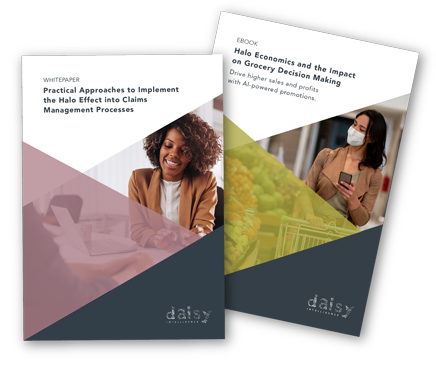 Trust the tech to Daisy
Learn how we're using AI to
empower your people
Subscribe to our newsletter and discover the value AI delivers in retail and insurance