Over the past four years, Daisy Intelligence has established a solid foothold in Canada and the U.S. and we now expanding our horizons as a growing number of overseas retailers are looking to learn more about our unique product and price mix optimization platform powered by artificial intelligence.
One of the most exciting markets is South America, which is similar in size to that of North America and an innovative and competitive marketplace.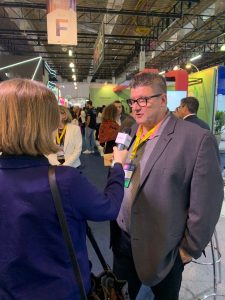 Brazil, for example, is the world's ninth largest economy with a population of than 200 million people with retailers battling in the discount, general merchandise, big box, and pharmaceutical sectors. 
"We are actively exploring growth in international markets, specifically South America," said Daisy CEO Gary Saarenvirta. "We're pursuing both direct sales, as well as sales through strategic partnerships." 
In Brazil, Daisy's plans are being supported by DFuturo, the consulting arm of the Hasar Group. DFuturo provides professional strategic services to companies that want to embrace best in class business processes, innovations, and technologies from around the world. 
Daisy and DFuturo unveiled their partnership at the recent LATAM Retail Show, the biggest retail conference in South America. 
At the show, Saarenvirta was the keynote speaker on how artificial intelligence is impacting the retail sector globally, as well as the business success that Daisy's approach is having on its rapidly growing list of clients. 
"It was a great opportunity to connect with a new retail ecosystem," Saarenvirta said. "The retailers that we met are facing the same challenges as their counterparts in North America, driving higher sales and profits in the face of ever-increasing competition." 
To learn more about how Daisy helps retailers take a smarter and more profitable approach to promotions, download our free eBook.